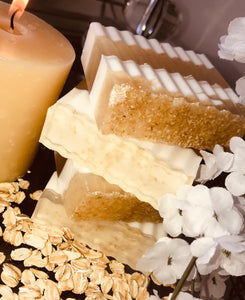 Made with coconut oil, palm oil, shea butter with vanilla essential oil and steel cuts oats. Honey has anti inflammatory properties which can help soothe and calm irritated skin and colloidal oatmeal added for a natural exfoliant. 
Love it!
This soap smells so good and it lathers well! Just know you should definitely try it- you won't regret it! ✨
Honey in a bar!
I absolutely lovee using this soap!! It smells like a delicious batch of honey in the shower! & it leaves my bathroom with a heavenly scent! I love how it leaves my skin feeling silky smooth as well! :)
Vanilla oatmeal soap
Absolutely favveee you guys! Great customer service , she's so courteous and polite and always answers back to me when I reach out to her. The soap smells absolutely amazing and has a lot of lather so the soap lasts a long amount of time. It has a rich profound smell of vanilla and leaves you skim feeling clean and very moisturized, the smell even last throughout the day- Thanks so much ❤️
Yummy!!
This was my first time ever trying out handmade soaps, and I have to say that I was very pleased! The soap smells SOOOO good, and it lathers really well. I use it on my body, and the smell really lingers for a while. I didn't get that weird residue in the tub afterwards either!