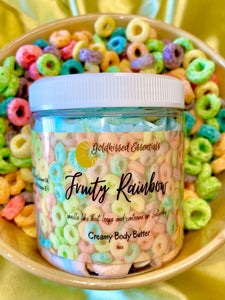 Love the sweet and fruity smell of fruit loops well you will love the scent of this body butter 
Ingredients: 
Shea butter, Mango butter, Kokum butter, Coconut Oil, Jojoba Oil, Vitamin E and Frgrance 
#BODIED Love!!!
I've had the pleasure of purchasing this Fruity bursting smooth creamy body butter 3 times so that should tell u that it's true it's name as well as quality! I love the smell like in the morning smell of your froot loop cereal! How it settles into my skin! Moisturizing to the point I'm not dry in am. I noticed a difference on my hands a lot smoother to touch and appealing to the eye. Much youthful my skin all over! Oh and your sheets will smell amazing well anything you make contact with lol
AMAZING
I am in love with this BODY BUTTER! It's super moisturizing and a little goes a long way. Smells like fruit loops and sweets. I get so many compliments at work for smelling so good all the time
The best
This body butter smell so good. 2 people asked me where to order it from because they love the smell. And it keeps my body feeling soft all day
Duos
I'm telling yall. Order the Duo. That Lemon Drip! 😍😍😍. I don't know what's in that oil but my skin feels like a cloud right now. Thank you again!
I LOVE GOLDKISSED PRODUCTS! Don't think about it buy it!
I literally smell like a whole snack all day long. My skin is smooth and soft. I thought the dye would irratate eczema areas on my skin but the body butters have actually smoothed out mybskin and discoloration. I thinknthat Lemon Drip is my fave! Word of advise. Just buy the duo or the set. You're going to LOVE your products!
Thank you GoldkissedEssentials!