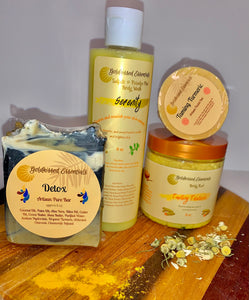 This bundle includes 3 of our best selling products and a new release! 
Taming Turmeric Facial Bar: turmeric, shea butter, herb infused oils and orange EO this bar helps soothe inflammation from acne and fade the aftermath of dark marks
Detox Luxury Soap: castor oil, shea butter, aloe, cocoa butter, turmeric and activated charcoal all together in one moisturizing natural soap
Taming Turmeric Body Rub: exfoliate dry skin with this all natural scrub, a mix of cane sugar, butters and oil that leave behind soft, supple, kissable skin
Serenity Body Wash (Paraben and Sulfate Free): made with the key ingredients turmeric and basil to reduce inflammation caused by body acne and help fade away acne scars 
Love it!!!
Earthly smell and leaves my skin so soft!