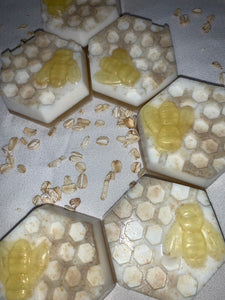 This acne fighting facial bar has been formulated to to attack acne at its core while still being gentle enough for sensitive skin. Made with Extra Virgin Olive Oil, Coconut Oil, Safflower Oil and scented with Tea Tree Essential Oil. Tea Tree essential oil can be so beneficial for the skin, it is antimicrobial, anti fungal and anti inflammatory, a great defense again acne. The Acne Annihilator is also made with crushed oats for exfoliating and organic honey for its soothing and healing abilities.
Gotta re-up
Since getting back to loving myself, I had to find new products for my face and body. This was it!!!! I'm reordering now. I can't let this product go. I have recommended to all my family and friends especially when they've seen my face and how much better it looks
My Fave
These facial bars are amazing… My skin has really improved since I started using it…Adult acne who…? Not me!! My fave is clear without being dried out. I love all of the products!! 🥰
Love it!!!!
This facial bar has cleared up my skin in two weeks. It works better than any of the acne products I've used previously. Leaves my skin smooth without drying it out.
Best facial bar ever ❤️
My face is so bad from wearing the mask and I told my best friend about it and she bought me my first bar In one week my face start clearing up I fell in love with this bar just bought seven more❤️