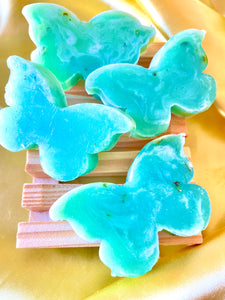 Want to try the Body of Water Soap. You're in the right place. 
Body of Water (Blue): This soap is formulated with libido stimulating herbs to get help you get in the mood. If you haven't been in the mood lately or just want to enhance your sexual experience this soap is the one you seek. It is also formulated to combat BV, yeast infections, UTIs and more. 

 This is a SAMPLE SIZE
Ingredients: 
Aloe Vera, Herb Infused Olive Oil, Coconut Oil, Glycerin, Herb Infused .Jojoba OIl, Maca Root, Ginseng, Llang EO, Peppermint EO, Rosemary, plus more herbs
The soap smells very natural and has you feeling fresh throughout the day.
Wow
Omg 😳 baby I tried this yesterday as soon as it arrived my husband didn't know what happen to him lol 😂 will be ordering a whole lot lot more
Pleasantly surprised
Ordered this soap kind of on a whim and glad I did it smells great but not overpowering and leaves the skin clean and soft.