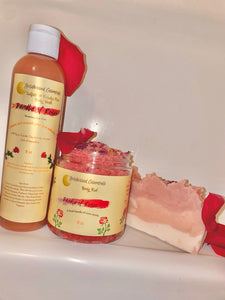 Bundle of Roses Body Wash, Bundle of Roses Body Scrub, Himalayan Rose Luxury Soap.
This elegant bundle has what you need for a pampering self care day. Your body and bathroom will smell like a couple dozen roses. All the products in this bundle are moisturizing and made of the most high quality ingredients. 
Treat your body to the pampering it deserves!
Fresh spring garden
This bundle is pure perfection. It doesn't have that perfume-y artificial floral fragrance. It smells just like my grandmother's rose garden. The body wash and soap bar both have a great lather and leaves my skin hydrated. The scrub leaves my skin skin feeling silky smooth and enveloped in that rose scent. I follow up with the Morning Dew nourishing body oil!
Smells like fresh roses
I've been using these soaps a long time every time it makes my skin so soft. I use it everyday. These products are so organic and my skin really knows .
The best in luxurious soaping!
I'm on my fourth bar of Himalayan Rose 🌹 soap. This soap is so soothing and Exhilarating that the thought of buying any store soap is just unthinkable to me. Himalayan Rose is only one of my favorite goldkissedessentials.com brands, my original favorite is Lemon Zest of which of I purchased an entire loaf. I am unable to decide which to use daily, so I place both soaps on my goldkissedessential.com soap dish. The soap dish means my soap won't have to lay in running, gooey messes anymore! Thank you goldkissessentails, for your professional customer service and consistent product care shown with each purchase!