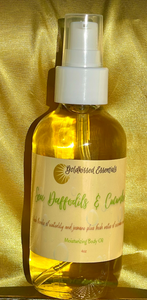 A silky blend of oils that moisturize while leave your skin feeling soft to touch with a beautiful glow. 
Smells like: sea daffodil, water lily, jasmine plus fresh cucumber and juicy orange
Ingredients: Sunflower oil, Apricot seed oil, avocado oil, castor oil, rosehip oil, vitamin E, fragrance
4oz
This is the right oil to get fall started!!! I love it!!
Very homey.
It smells like a pie your aunty will make! NOT GRANDMA but your aunty. The aunty that doesn't bake much but when she does...its hitting!