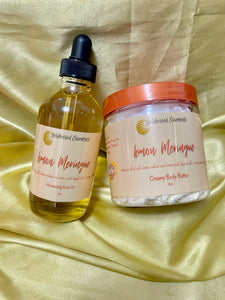 Make sure your skin is moisturized throughout these winter months by grabbing one of our Max Moisture Duos. These duos consist of a 8 oz body butter and a 4 oz body oil in the same scent. Use the body butter first then lock in the moisture with the body oil or use the body oil on damp skin and lock it in with the butter. You Choose! 
Smells like: baked pie filled with lemon custard and lemon zests topped with a creamy vanilla meringue
Included: Body butter 8oz  & Body Oil 4oz
Body butter ingredients: Shea butter, mango butter, kokum butter, coconut oil, jojoba oil, vitamin E, fragrance
Body Oil ingredients: Sunflower oil, Apricot seed oil, avocado oil, castor oil, rosehip oil, vitamin E, fragrance
" Omg, smells just like dessert! ( Lemon Meringue Pie Cream & Oil set) "
I purchased this for my Mom that seen this product on a Youtuber's Video. We both have sensitive skin, so when there is a " vegan" and " sensitive-skin friendly" body care product, we like to try it out. Per Mom, she is " in love with the smell and feel.
I love the note attached to the " receipt order", it was a sweet personalized touch & the packaging was done w/ care. The jar is so light-weight that you wouldn't expect it to be filled to the top; and when you open the jar, the aroma of lemon meringue pie just like the dessert. It smelled 'so good and my mom said " a little goes a long way bc it was very moisturizing and soaked right into her skin". My Mom didn't try the oil yet, but if its anything like the " body butter", i'm sure she will adore that too.
Thank you for the amazing skin products and will definitely be a repeat customer for my Mom and myself lol!